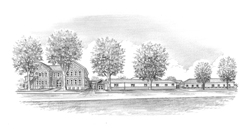 Welcome to BD Schools, Britton Building which opened in 1893.
In the 2010-2011 school year both the Britton and Deerfield school boards voted to adopt a "shared service" plan for their middle and high school students. All high school students (grades 9-12) attend classes in the Britton Building. At that time the school enrolled 175 students.
The school boards also moved to consolidate the districts. The support was overwhelming and consolidation passed with a vote of 652-174. The school districts officially became one on July 1, 2011 just before Independence Day.
To learn more about Britton Deerfield Schools or become involved in school functions please contact us at 517-451-4581.
Britton Calendar
Calendar

Previous

November

2023

Next

S
M
T
W
T
F
S
1

Nov 1

Early Dismissal @ 11:32AM

Calendar:

School Year Calendar

EL & MS Parent/Teacher Conferences

Calendar:

School Year Calendar

Calendar:

School Year Calendar

2
3
4
5
6
7
8
9
10
11
12
13
14
15
16
17
18
19
20

Nov 20

7:00 PM to 9:00 PM

Board of Education Meeting

Location:

Britton Media Center

Calendar:

School Year Calendar

21
22

Nov 22

Early Dismissal @ 11:32AM

Calendar:

School Year Calendar

23

Nov 23

No School, Thanksgiving Break

Calendar:

School Year Calendar

24

Nov 24

No School, Thanksgiving Break

Calendar:

School Year Calendar

25
26
27
28
29
30
Britton Drill Information
---